Composin', playin' the guitar, puttin' bands together…
In the early 1990s I began to work as a musician, arranger and composer for local bands, broadcast orchestras and theatres. From 1996 on I was privileged to work with Roman Gottwald´s fantastic Salonorchester Alhambra where I met some of the finest musicians in Vienna. Out of this great musical experience I founded my own bands "Chameleon Changes" and "Zur Eisernen Zeit – Natural Born Viennese".
CHAMELEON CHANGES
Just by walking you´ll find new ways.
Founded in 2001, this band sets its focus mainly on my own composed music in modern jazz. Trying to push the boundaries between composed and improvised music, I'm very lucky to have the opportunity play alongside the likes of Bertl Mayer, Herwig Gradischnig, Daniel Nösig, Thomas Gansch, Robert Bachner, Christian Radovan, Oliver Kent, Michael Hornek, Hans Strasser, Matthias Pichler and Mario Gonzi. Our pieces sometimes develop like a piano performance of Thelonious Monk, sometimes resembling that of a risky tightrope walk: all of a sudden seemingly familiar and radical ideas are being simultaneously confronted. At its core, and consistently throughout, our music adheres with what you simply might call JAZZ!
---
CURRENT LINE-UP
Herwig Gradischnig: reeds
Daniel Nösig: trumpet
Robert Bachner: trombone
Bertl Mayer: chrom. harp
Oliver Kent: piano
Hans Strasser : bass
Mario Gonzi: drums
Marcus Ratka: guitar, music director
---
DISCOGRAPHY
THE DANGEROUS LAB
Quinton Records | 2016
CHAMELEON CHANGES
Preiser Records | 2005
---
For management and booking inquiaries please contact
QUINTON RECORDS Musik und Kommunikations GmbH
ph: +43 (0)1 929 16 08 – 100
office@quinton.at
---
MEDIA
---
ARTICLES & POSTS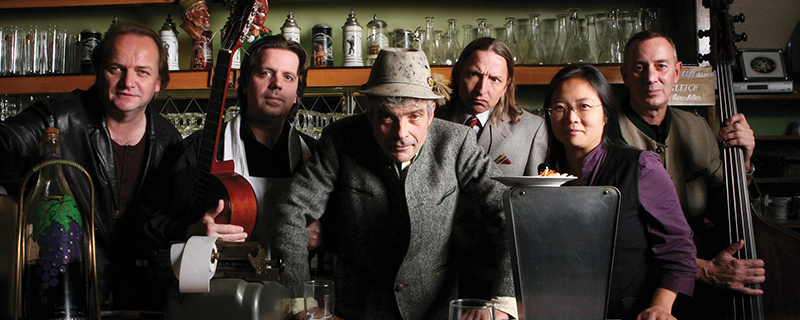 ZUR EISERNEN ZEIT – NATURAL BORN VIENNESE
All that Schubert, Schrammel, Strauss and Schoenberg!
Growing up only a stone´s throw away from Franz Schubert´s birthplace, I was naturally suffused by the spirit of Viennese music at its best. After growing older and spending evenings at what is probably one of Vienna's most charming districts, Nussdorf, I was equally suffused by the spirits of Viennese wines. Beethoven obviously appreciated such liquids as well, as he too lived there for quite some time. Furthermore, the Schrammel-Brothers put together what was called the Schrammel-Quartet, a smaller and more intimate version of All That Strauss Big Band. Some years later, Arnold Schoenberg stumbled upon the idea that the twelve tones from the western musical system start to sound much more exotic, when you free them from the methods of tonal organisation that had been used up until then. And so modern music was born! As a natural born Viennese I couldn't resist trying to add a modest bit to the great tradition of Viennese music.
---
CURRENT LINE-UP
Weiping Lin: violin
Bertl Mayer: chrom. harp
Leonhard Paul: trombone
Alexander Lackner: bass
Marcus Ratka: guitar, music director
---
DISCOGRAPHY

NATURAL BORN VIENNESE
Quinton Records | 2012

CAPTAIN AUSTRIA
Quinton Records | 2012
ZUR EISERNEN ZEIT
Preiser Records | 2012
---
For management and booking inquiaries please contact
QUINTON RECORDS Musik und Kommunikations GmbH
ph: +43 (0)1 929 16 08 – 100
office@quinton.at
---
MEDIA
---
ARTICLES & POSTS